The case for hybrid cloud

According to Flexera, 82% of enterprises embraced a hybrid cloud strategy in 2021. Most companies have a long-term hybrid cloud strategy involving both cloud environments and on-premises workloads. On average, respondents of Flexera's survey use 2.6 public and 2.7 private clouds. The overall trend line continues upward as more organisations adopt a hybrid strategy.
What is a hybrid cloud strategy?

Hybrid cloud is a blend of public, private and multi-cloud strategies. Essential operations and applications are still housed in the data centre (for security or latency reasons), while applications and services that can best live in the cloud are migrated to a cloud service provider. The result is a seamless experience between public and private infrastructure – the best of both worlds.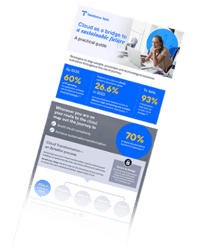 Cloud transformation can take many routes, but wherever you are on your cloud journey, you need a roadmap aligned to your strategic goals. Download our interactive Practical Guide – Cloud as a Bridge to a Sustainable Future.